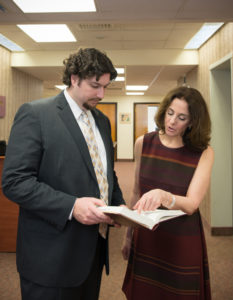 DIVORCE
I can help you with your divorce so that your decisions will help you create a foundation for a healthier post-divorce life.  One of my clients described it as working toward a "new normal."   There are many issues that you may need to consider.  As your attorney, I will help you make important decisions which may involve some of the following:
Getting started.  I will help you collect information so that we can create a list.  I have developed several questionnaires for my clients that will help you think this through.
Which assets and debts?  You may have 401(k) funds, pensions, other retirement assets, a house, rental property, time share, motor vehicles, jewelry and/or valuable collections.  Maybe you have a mortgage, a home equity loan, student loans, credit card debt and/or other loans which would go on the list of debts.
Is there something special about the asset or the debt?  In some cases, an asset or debt might be treated differently perhaps because it was an unexpected, recent inheritance or it is a business which continues to produce income for support.  You and I will gather other information so that we have a better understanding of each of these assets and debts.
How to divide?  This is referred to as asset division and debt allocation.   In your settlement, you and your spouse will make the final decision about who receives which asset and when.
Alimony.  We will discuss some questions to help you make decisions about alimony.
Does alimony make sense in your situation?
What are the tax consequences for you?  For your spouse?
Would alimony be a better approach than another way of considering your income and expenses?
How does the alimony affect other money matters in your divorce?
Child Support.  If you have a child, you may be interested to learn how much support either you or your spouse will be paying to the other.
The starting point is to calculate child support according to the state guidelines.
We will discuss which expenses child support does cover – and which expenses it does not cover.
We will consider alimony and facts specific to your family's situation.
Then we will talk about what other factors should be considered and what other approaches are available?
Finally, we will discuss other expenses for your child.  What about medical and dental bills which are not covered by insurance.  Day care, camp and soccer?  College tuition and college planning?
Ordinary school week plan.  I will help you think through the type of plan which might work for you, your spouse and your children.  Every child's needs are different.  Many parents' work schedules can be complicated.   It is important to think through a plan that will promote strong parent-child relationships and which will nurture the health and happiness of your children.
Holidays and Vacations.  Which holidays and vacations are important to you? To your spouse?  We'll take a look at these and figure out a way to continue some important family traditions and create new ones.
Medical Insurance.  I will help you gather information and resources to make decisions about the best medical insurance plan for your family.  This may be an opportunity to save family dollars by selecting a plan which will cover the family after the divorce.
Life Insurance.  If there are child support or alimony payments, you will want to talk about life insurance to protect future support payments.
MODIFICATION
If you have a court order or judgment which is no longer working well, you may consider negotiations with your former partner to make a change.  Often I have clients whose income changes or whose family needs change, such as a child about to start college, loss of work, etc.  When this type of situation occurs, I discuss with my client the options to try to make changes without an adversarial court filing.
SETTLEMENT COUNSEL
I can represent you in a divorce, paternity or other family law matter as settlement counsel.  If you are in mediation, I can give you advice as you go through mediation.
Also, if you hope to settle your divorce without going to court, I can work with your spouse's attorney to settle your divorce.  I can be settlement counsel for a divorce, a complaint for modification, paternity, contempt and other family law matters.
If you are in mediation, I can give you advice as you go through mediation.
Representing clients involved in mediation
Representing clients before filing in court
SAME SEX DIVORCE
If you are starting a same sex divorce, then I will help you think through some situations which may create special challenges for you.  Although the recent Supreme Court decision has made many divorce matters simpler to resolve in Massachusetts, you will still need to think through some other questions, such as: "What if my spouse moves to a state which does not recognize same sex marriage?"  Read more about the impact of the Supreme Court decision on same sex divorce.
UNMARRIED PARENTS
If you have a child and are not married, consider collaborative law.   In the privacy of my office, we can talk about important parenting issues.  What will the parenting plan look like? What about the holidays and summer vacations? And how will the plan change as your child grows?   Also, you will have questions about the finances, such as child support, dependency exemptions and medical insurance.    I can help you understand these issues – and the others which are important to you and your child.
As your attorney, I will give you advice, provide you with options and help you choose the best approach for you and your child.  As your mediator, I can help you both resolve all these issues.
Establishment of paternity
Support and parenting plans
Modifications