You are getting ready for your first divorce mediation session – and it's online.  No need to dress up.    No scheduling travel time or paying parking fees.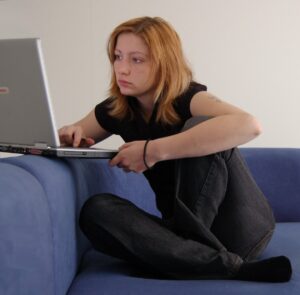 Here are 10 tips to help make the most of your online mediation.
1.  Be Comfortable
Find a comfortable place to speak.  It might be in your home at a comfortable table or couch.  Perhaps, in a car, at your office or at another's home.    
2.  Privacy
Make sure no one else can hear the conversation or see your monitor.  If you have children, this is especially important.  If you think your child might knock on the door or wander in, discuss with your mediator that you may need to take a break. Also, you can discuss having an agreement that no one will record or take screen shots during the meeting, unless everyone agrees.
3.  Lighting and Background
It's best to have a light in front of you.  Lighting behind you will put your face in a shadow.  Find a spot where the background will not be distracting (for example, choose a non-controversial background).
4.  Back-ups
Make sure that you have a charging cord for your computer nearby.  This will avoid unnecessary interruptions during your mediation.  Also, a fully charged cell phone is a good back up if you start to have some difficulty hearing each other.
5.  Test Zoom
Test out the video and the audio before your mediation with the Zoom link that your mediator sent to you.  You do not need to create your own Zoom account.
6.  Zoom basics
When you test Zoom, check out a couple of functions.  First, you may see the "Waiting Room".   At the beginning of your meeting, you may be in a Waiting Room.  Your mediator will welcome both of you into the Zoom room to start the session. Also, there is will be a "mute" icon.  Click on that if your dog is barking.  Need to take a break?  Tell your mediator, and you can turn off the video by pressing the "Stop Video" icon. 
7.  Be prepared with pen and paper
You may want to take notes.  A pad of paper and a pen nearby can be helpful.  Jot down questions or comments as you are listening.
8.  Documents
Before the meeting, remember to sign and deliver any necessary documents (e.g., agreement to mediate).  "Bring" to the mediation, copies of documents that you will be discussing.  You may want to print some documents and have a special electronic folder for others.
9.  Have a "Plan B"
Zoom mediations work quite well.  However, it is helpful to have a Plan B. Discuss with your mediator what to do if you have trouble connecting by Zoom at the scheduled time.  Will you e-mail or call the mediator?  Knowing that you have a backup plan is comforting.
10.  The meeting is about to start
You have done your best.  Take a couple of breaths and log onto Zoom.  Expect that there may be some glitches and that's okay. Most clients find that a Zoom mediation is a good way to resolve their issues. Remember your mediator is there to help you and your partner.
Learn more about online divorce mediation
Contact an experienced online divorce mediator to learn more.
Lisa J. Smith, Divorce Mediator and Collaborative Attorney
Melinda Milberg, Divorce Mediator and Estate Planning Attorney
Lisa and Mindy are among a small group of mediators who qualify as Certified Mediate.com Online Family Mediators (at the time of writing less than 50 in the US).